Hold your pointer over the photo to zoom in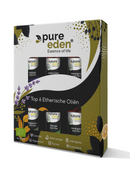 TOP 6 Etherische olie BIO dealpakket Pure Eden®

Productbeschrijving

Eigenschappen

Gebruik
Etherische olie Dealpakket: Top 6 meest populaire biologische oliën van dit moment. NIEUW met tijdelijke introductiekorting: Pure Eden® is een betaalbaar merk etherische oliën op de Nederlandse markt. Pure Eden is speciaal ontwikkeld om een betaalbaar alternatief te bieden voor de dure bekende grote merken. Biologische certificaten zijn altijd bij ons op te vragen. Elke batch wordt uitvoerig getest op de bestanddelen voordat het verwerkt wordt. Deze etherische oliën garanderen u het volgende: * 100% BIOLOGISCH (dus geen bestrijdingsmiddelen gebruikt!) * 100% Puur en Organisch * 100% Gecontroleerde kwaliteitsgarantie met laboratorium rapporten. Dit prachtige dealpakket is samengesteld met de 6 beste etherische oliën van dit moment:
Lavendel (Lavendel | Lavandula Hybrida | Frankrijk)
Lemongrass (Citroengras | Cymbopogon Flexuosus | India)
Sweet Orange (Sinaasappel | Citrus Aurantium Dulcis | Italië)
Tea Tree (Melaleuca Alternifolia | Australië)
Eucalyptus (Eucalyptus Globulus | Portugal)
Peppermint (Pepermunt | Mentha Piperita | India)
Zeer geschikt voor de eerste kennismaking met aromatherapie en de verschillende basis geuren. De in 10 ml verpakte etherische olien zijn therapeutic grade en dus geschikt voor gebruik in aromatherapeutische technieken. Verpakt in een prachtige giftbox en zeer geschikt om eventueel iemand cadeau te doen.
Natuurlijk en biologisch: Ons top 6 etherische olie bio pakket bestaat uit biologisch gewonnen etherische oliën, die op duurzame wijze worden verbouwd zonder het gebruik van chemische bestrijdingsmiddelen of kunstmatige meststoffen. Dit zorgt voor een puur en natuurlijk product dat vrij is van schadelijke stoffen.
Natuurlijke geur: De kenmerkende geuren van de etherische oliën kunnen een gevoel van rust en helderheid geven. Het kan worden gebruikt als natuurlijk parfum of als geurversterker in zeep, badproducten, kaarsen en luchtverfrissers. De aangename geur creëert een ontspannen sfeer en helpt bij het bevorderen van een gevoel van welzijn.
Veelzijdigheid: Onze biologische etherische oliën kunnen op verschillende manieren worden gebruikt. Het kan worden verdampt in een diffuser, in de sauna, toegevoegd aan badwater, gemengd met drageroliën voor massage, gebruikt in DIY-huidverzorgingsrecepten en nog veel meer. De mogelijkheden zijn eindeloos! Let op: Etherische olie is niet puur te gebruiken. Raadpleeg altijd de bijbehorende documentatie en verdun de olie met een draagolie.
Biologisch gecertificeerd: Onze etherische oliën zijn biologisch gecertificeerd, wat betekent dat het voldoet aan strenge normen en richtlijnen voor biologische landbouw. Dit garandeert de hoogste kwaliteit en puurheid van het product.
Bestel direct uw Etherische Olie top Pakket van Pure Eden en geniet van haal de natuur in huis. 
Inhoud per flesje: 10 ml
GMO vrij: Ja
Vegan: Ja
Proefdiervrij: Ja
Allergenen vrij: Ja
Conserveermiddelen: Nee
Parabenen vrij: Ja
IFRA: Zie PDS in uw klantaccount
Biologisch: Ja, SKAL gecertificeerd
Als ingrediënt of grondstof voor cosmeticaproducten of als aroma voor diffusie.
Let op: NIET voor inwendig gebruik
Alleen voor uitwendig gebruik.
Alleen voor professionele gebruikers
Indien u het document niet kan vinden neem dan direct contact met ons op voor uw het gaat verwerken. Sommige documenten zijn nog weleens in onderhoud.
Alle informatie op de website van Oliemeesters is naar ons beste weten en met de grootste zorg samengesteld. Oliemeesters aanvaardt echter geen enkele aansprakelijkheid voor eventuele schade die bij toepassing, gebruik of misbruik van de informatie en producten kan ontstaan. Lees altijd eerst de SDS en/of PDS door, welke in uw klantaccount te vinden is. Sommige oliën kunnen tot onverwachte allergische reacties leiden. Test dus altijd eerst in het klein op de huid. Bij twijfel wordt het daarbij aanbevolen om altijd eerst een arts te raadplegen. Onze producten zijn 100% pure natuurproducten, seizoen- en weersomstandigheden kunnen de oogst beïnvloeden waardoor het product per batch kan variëren. De geleverde natuurproducten kunnen mogelijke geur- en kleurverschillen geven ten opzichte van eerdere leveringen. Lees ook altijd eerst goed het product etiket door voor u het gaat gebruiken of verwerken.
Quality
Quality is our top priority. Oliemeesters was created from the desire to supply only reliable, mainly organic and 100% natural products. 
The manufacturer
Because we only want to guarantee the best quality for our customers, we work with regular suppliers with whom we have built a long-term relationship. We also have the guarantee of a 100% natural product, which has been fairly sourced by local farmers. Our products can always be traced and are always provided with the necessary documentation.
Quality control
Since we work a lot with organic products, we also have to deal with external controls within our company. Professionalism and quality are therefore a requirement within Oliemeesters.
Do you have any further questions regarding quality? Then don't hesitate to ask. Check out our FAQ page, call us or email Quality@groothandelolie.nl
Documentation PDS | SDS | COA | ALLERGENS | IFRA
Documentation Oils
The documentation of our products is always available and can be found within your customer account. Create this first. We distinguish between 3 available documents: 
- PDS (product data sheet)
- SDS (safety data sheet)
- WITH THE (certificate of analysis) can be requested after your order via quality@groothandelolie.nl
In these documents you can find all available information per product. In this way, as Oliemeesters, we always want to be transparent to our customers. 
IFRA statement can be found in the PDS.
You can download allergens here:
https://drive.google.com/file/d/1FxbI34P91g_nAZcGxaflqZ4p4paUxkWr/view?usp=sharing
Do you have any further questions regarding quality? Then don't hesitate to ask. Check out our FAQ page, call us or email quality@groothandelolie.nl
Payment options
Your payment is processed securely in privacy by Mollie Payments. We never store or have access to your credit card details!